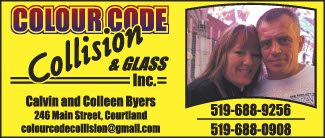 246 Main Street of Courtland, Courtland, ON, Canada
246 Main Street of Courtland
Courtland
Ontario
N0J 1E0
CA
For almost 30 years, Colour Code Collision has been your best choice for local collision repair and restoration work.
At Colour Code Collision, our tagline is our code:
to return your car to you good as new.
Your satisfaction is our goal.
The team at Colour Code Collision understands that your ride is your baby, your pride and joy. Calvin and his team are car guys and girls, through and through; that's why we do more than just collision work, we also handle restorations too… of darn near anything!
You take pride in your ride, and that's why we pride ourselves on giving your ride back to you good as new.
Chamber Affiliations
Delhi